Sylvia's Chicken Scaloppine
Derf2440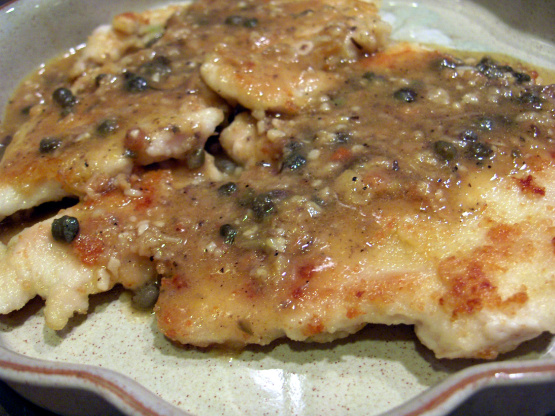 Here is another good one from my new book, Love Notes to Our Moms. I have tried this one and it is so good. Fixed with pasta and some French bread. It's out of this world.

Oh man! this is a fantastic Scaloppine! I've made a million different variations of this dish over the last several years and this is by far my favorite. I personally loved the strong lemon flavor and like that it doesn't call for a ton of butter like many other recipes do. I will most definitely be making this again and again. Thanks GertC!
With a meat mallet, pound chicken breast to 1/2 inches thick.
In a small bowl, combine flour and cheese.
Dredge both sides of chicken breast in flour mixture.
In a large sauté pan, sauté chicken breasts in 1 teaspoons olive oil for 3-5 minute on each side or until cooked through.
Remove from pan.
Heat butter and remaining olive oil together over medium-low heat. Add garlic and cook 1 minute.
Add wine and simmer for about 3 minute or until wine is evaporated. Add remaining ingredients except salt, pepper and parsley.
Simmer sauce for 5 more minute.
Add salt and pepper.
Serve over chicken breast with 2 tablespoons sauce and 1/2 cup cooked angel hair pasta and parsley.