Thorsten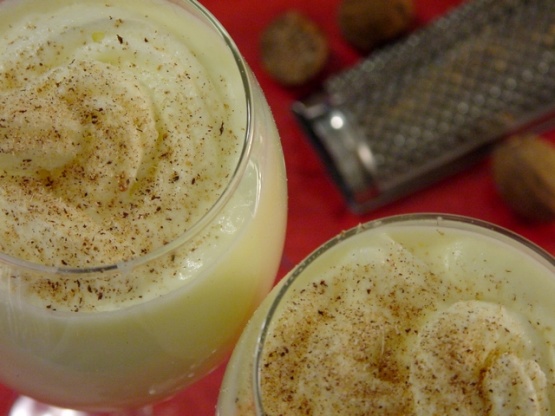 Yet another recipe from Southern Living 1981, Syllabub, depending on how it's made, can be a custard type dessert or a beverage. It's made with cream (or milk) and wine or other spirits. Recipes for Syllabub can be traced back to the 17th century. This particular recipe produces a lighter eggnog-type beverage. Cook time is the time listed to chill the beverage.

Is it a drink? Is it dessert? Who cares!?! It's delicious!!! Made for ZWT3...a Toast to the Captains!
Heat the sugar and wine on low heat in a 1 1/2 quart saucepan until the sugar dissolves; stirring constantly.
Remove from heat and slowly add in the half-and-half.
Beat until frothy; chill completely, about 1 1/2 hours.
Pour into glasses, top with whipped cream and sprinkle with nutmeg.