Sydney's Bacon & Egg Scramble
ImPat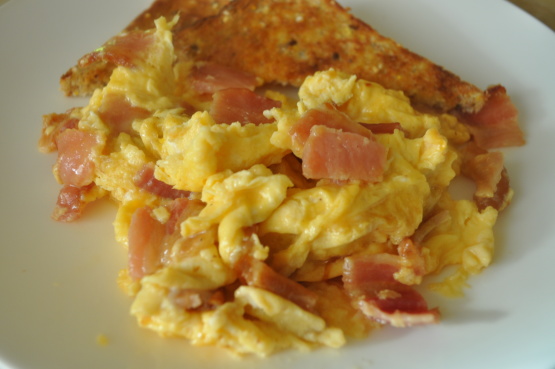 My Dad didn't cook very often. Actually, I can only remember two things that he ever made. This is one of them. He always comes to mind when I make this. The best way to enjoy this (for me anyway) is while curled up in a big comfy chair. No juice, no coffee, no toast. Just me and memories of my Dad.

Top Review by ImPat
The DM and I thoroughly enjoyed this for breakfast this morning. I cooked my bacon in the oven but not as crisp as I normally would as the DM doesn't like it that way so for ease I cooked it a little less than crisp and I also omitted the onion powder as I am not keen on it, served with a slice of hot buttered toasted wholemeal/wholegrain made for a very satisfying breakfast. Thank you Diane #2 and to AZPARZYCH for the recommendation, made for I Recommend Tag Game.
Cook bacon until crisp. I do it in the microwave to reduce fat. Crumble when cool.
In a small bowl, beat eggs with water, onion powder, salt and pepper.
In a small frying pan, melt butter until bubbling.
Add beaten eggs and crumbled bacon.
Stir until eggs have set.
Enjoy!