Parsley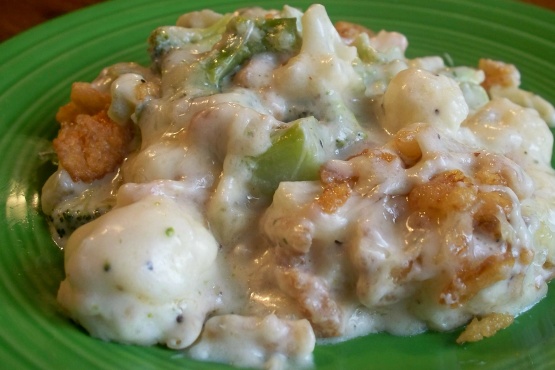 An easy, yet elegant vegetable side-dish.Great for holidays!Can be doubled very easily. Makes for a great presentation. You can vary the vegetables for different tastes.Smooth and great tasting!

This one is a winner! My kids hate swiss cheese but I made this they ate it all up. By far this one is a keeper!!
1

(16 ounce) bag frozen mixed vegetables, thawed and drained (broccoli, carrots and cauliflower)

1

(10 3/4 ounce) can condensed cream of mushroom soup (if you don't like mushrooms, use cream of Celery soup)

1

cup swiss cheese, shredded (4 oz)
1⁄3 cup sour cream
black pepper, to taste

1

(2 7/8 ounce) can Durkee onions
Preheat oven to 350°.
In a large bowl, combine the vegetables, soup, ½ cup of the cheese, the sour cream, black pepper, and ½ the can of French Fried onions.
Pour into shallow one-quart casserole.
Bake, covered, for 30 minutes, or until vegetables are done.
Remove from oven.
Sprinkle the remaining cheese and onions in diagonal rows across the top.
Return to oven, uncovered,baking about 5 minutes more.
(or until the onions are golden brown).