AmyMCGS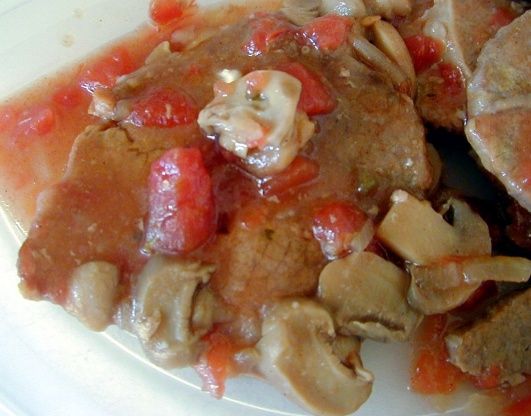 Aside from the long baking time, this is a very convenient recipe - a few minutes of prep time, slap it in the oven, and you're free until meal time. I've never tried it in a crockpot, but I imagine it could be cooked that way as well.

Very good- the sauce was wonderful over Instant Party Potatoes #115746. I made this in the crockpot like Miss Diggy- I cooked it on low for about eight hours. I used cheap flank steaks that were very thin- next time I'll use a thicker cut of meat to absorb more flavor. I used diced tomatoes with chilis for extra spice, and doubled the mushrooms. I'm sure I'll make this again- thanks for sharing!
Cut steak into serving size pieces and put into a 2 1/2 quart glass or pyrex casserole.
For easier cleanup, spray casserole with nonstick spray first.
Sprinkle steak with soup mix, mushrooms, green pepper (if using) and tomatoes.
Mix A-1 Sauce, water and cornstarch; pour over steak.
Cover and bake at 375° for about 2 hours.