Swiss Snack-Bread, Butter and Ovaltine
Kim127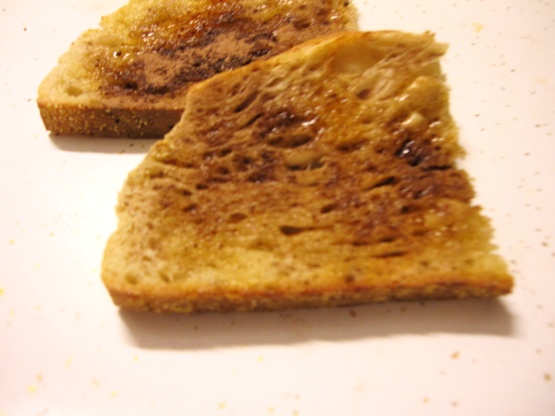 "The chocolate drink Ovomaltine (known in the USA as "Ovaltine") originates in Switzerland and enjoys ongoing popularity, particularly with young people. Aside from being a beverage, the powder is also eaten sprinkled on top of a slice of buttered bread." Found this on wikipedia...not exactly a recipe, but worth a try! The ingrediant amounts can be adjusted to your liking.

Like lazyme, I wasn't sure how I'd feel about this -- I like Ovaltine as a hot drink, but I didn't know how it would be as a bread sprinkle. I was surprised by how much I enjoyed this. In the spirit of using ZWT leftover stuff, I used momaphet's Recipe#114709 for the bread, and Debbwl's Recipe#404355 for the butter (very nice if you like chocolate and orange together). Thanks for posting! Made for the Emerald City Shakers for ZWT7
1

loaf French bread

5

tablespoons butter, softened

6

teaspoons ovaltine, powder
Slice the bread on the bias about 1/2 an inch thick.
Spread the butter over the bread slices.
Sprinkle the butter with the Ovaltine Powder.
Variations:.
Toast bread.
Use peanut butter instead of butter(this is American,not Swiss).