Boomette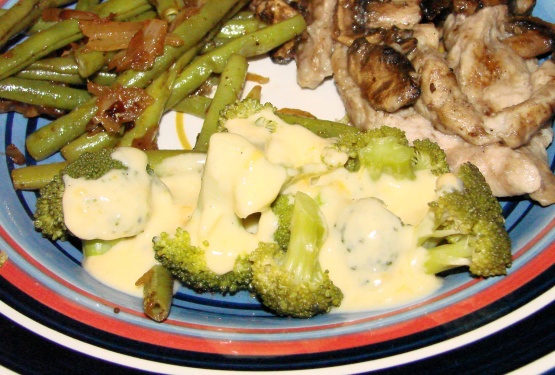 This my adopted recipe. Very good, I didn't have swiss cheese so I used cheddar. I think I used about 1/2 cup. The cheese sauce turned out good, it's so fast doing everything in the microwave. The prep and cooking times are approximate.

This was fabulous! Very quick and easy, all cooking done in the microwave with minimum clean up. Doubled the sauce for a large bunch of broccoli. I thought swiss could be a little wierd, and I am really not wild about sauce on vegetables but was willing to give it a try. It did need a couple of shakes of garlic salt but WOW!! this was great. My husband HATES broccoli and even he liked it. (He normally does not participate in reviews at all, but actually said I should mention this). I know cheddar would be very good as well. Thanks, Dorel, for adopting!
Wash broccoli; remove outer leaves and tough part of stalks.
Cut broccoli stalks lengthwise into uniform spears, or slice thin crosswise.
In a 1-quart casserole combine broccoli, water and 1/8 t salt.
Micro-cook, covered, on 100% power for 5 to 6 minutes or just till tender.
Drain: Let stand, covered, while preparing sauce.
For sauce, in a 1-cup measure microwave butter or margarine, uncovered, on 100% power for 30 to 45 seconds or till melted.
Stir in flour, dash salt, and pepper; Stir in milk.
Micro-cook, uncovered, on 100% power for 1 to 2 minutes or till thickened and bubbly, stirring every 30 seconds.
Stir in shredded cheese till melted.
Serve sauce atop broccoli.