Swiss Salad (For Our Swiss Sister, Tigerduck)
Brenda.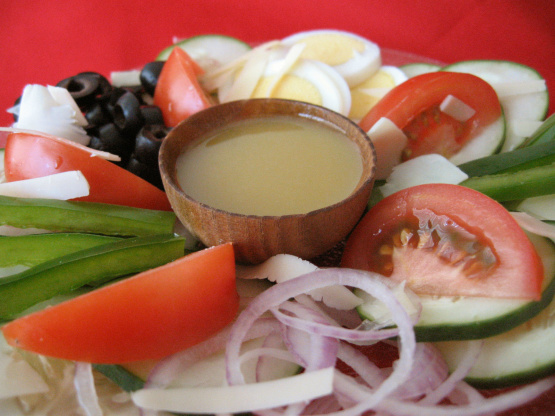 This salad by Lillian Langseth-Christensen from "How to Present & Serve Food Attractively" seemed very timely w/RSC going on, so I decided to enter it & dedicate it to Duckie. Enjoy! (Time does not include time to hard-boil & cool the eggs or refrigerate the dressing.)

I have been wanting to try this salad for weeks and finally the timing was right. This is a wonderful, fresh tasting salad. I used gruyere cheese and shaved it onto the salad with my vegetable peeler. The flavors in the dressing blend and balance perfectly.*Delicious*. DS kept coming into the kitchen swiping my sliced veggies and dipping them into the dressing. I had to shoo him out so we would have enough for our salads. I plated each salad separately and served small individual bowls of dressing on each plate. I knew this would be a wonderful recipe coming from you twissis :) Thanks for sharing, we enjoyed this. Nick's Mom
For Dressing: Combine all ingredients & refrigerate for at least 4 hours.
For Salad: Prepare & combine all salad ingredients except the egg slices.
Present the salad, drizzle w/dressing to your taste pref, mix to distribute dressing & top w/egg slices to serve.