Swiss Onion Cake (Zwiebelkuchen)
Prep 35 mins
Cook 35 mins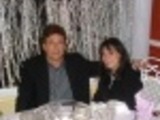 This makes a delightful appetizer or accompaniment to any meal.
Directions
Sift dry dough ingredients into bowl; cut in butter. Add milk, a tablespoon at a time, tossing just until flour is dampened. Gather into ball. Pat 2/3 of dough in bottom of 8-inch round cake pan. Bake at 425 degrees until lightly browned, about 15 minutes. Cool on rack and turn oven down to 325 degrees.
Meanwhile, fry bacon until crisp; drain most of bacon fat. Cook onion in remaining bacon fat until tender. Combine remaining filling ingredients with bacon and onion.
Pat remaining dough around edge of cooled pan. Pour filling into crust. Bake at 325 degrees until almost set, about 20 minutes. Let stand 10 minutes. Cut into wedges and serve.
Most Helpful
Just loved this tart!! I must admit that I cheated and used a pre-made refrigerated pie crust and baked it in a pan that was larger then the 8" pan, so it wasn't as thick as it should have been. The only other change I made was to add a bit of Swiss/Gruyere cheese, as I have a ton of it left from this region of the Quest. Will definitely make this again. Thanks for sharing the recipe.
Made for ZWT 7. Jackie, this is a keeper!! Made for lunch today. A confession: I made my own sour cream pastry (among my recipes here) because I am so bad at any random shortcrust pastry . Because we are only 2, DH and me, I did make the entire recipe, but made 4 individual pastries (quite generous size), and the rest of the filling I baked in a small dish. We enjoyed the pastries (no, I could not finish mine: I saved the 2nd one, LOL!). The baked dish -- the filling without crust -- is in my very cold fridge, to be used as a side dish withing the next couple of days. It should be perfect with simple baked/roasted chicken pieces. I added a small teaspoon of nutmeg to the flling. I added some herbs, but did not have chives (drat -- found fresh chives later at the local shop). I'd add this hint: beat up 3 whole eggs, and brush your pastry with egg before blind baking. The sour cream pastry I made does not need pre-baking, but all pastry needs an egg wash for a golden colour. Thanks! Lovely and easy recipe!