alligirl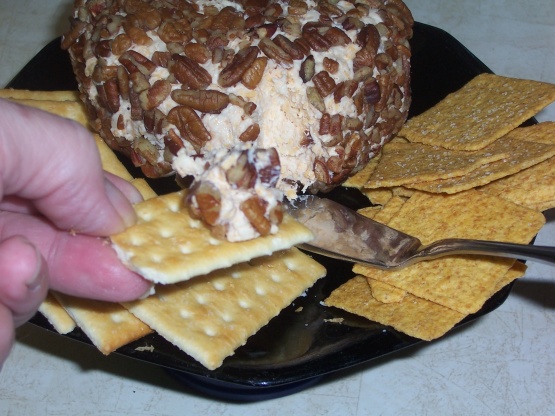 A friend of mentioned how much she loves Swiss cheese balls, so I went on a search to find a recipe. Here's one from several different recipes I found on the web! My friend just had hip surgery done and I'm looking for ways to surprise her and keep her spirits up. I think this will do it, it's good! :)

This cheese ball was very yummy! I really liked the cheddar with the swiss cheese and the spices. I didnt use the worcestershire sauce though because I couldnt find a vegetarian one, but I think it would have made the end product too salty for me anyway. Instead of the nuts I used sunflower seeds and I liked the earthy note they gave the cheese ball.
THANK YOU VERY MUCH for sharing this tasty treat with us, Sharon!
Made and reviewed for my chosen chef during Veggie Swap #49 August 2012.
Place cheddar, Swiss, and cream cheese, sour cream, Worcestershire sauce, paprika, black pepper, and garlic salt in a medium bowl.
Place in a food processor and pulse until well blended.
In bowl, place nuts and chives, if using. Stir to mix.
Shape mixture into a ball, roll in the chopped nuts and chives(if using).
Wrap in waxed paper or plastic wrap and refrigerate until serving time.
Serve with raw vegetables or crackers.