Swiss Mushroom Runza Casserole
cle0369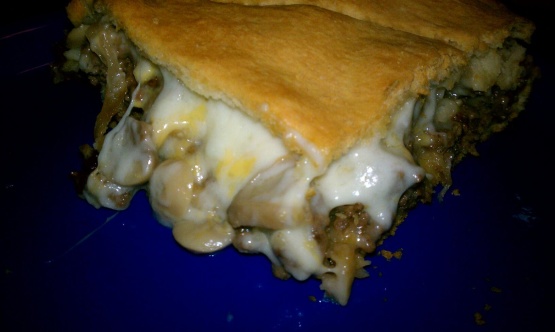 When craving a Swiss Mushroom Runza on a weeknight and don't have the time to make homemade.
Looks yummy, but you should rename this Cheesy Mushroom Runza, or something is,<br/>Molar since there is no,Swiss cheese in this. ( The original Runza restaurant here in Lincoln makes Swiss Mushroom Runzas with Swiss Cheese and Cabbage instead of sauerkraut)
1. Brown hamburger with onion and season to taste. (I usually use salt, pepper, and minced garlic), then drain. Add back to pan and add sauerkraut and simmer for 5 minute.
2. Add one tube of rolls to bottom of 9 x 13 pan.
3. Top with hamburger mixture.
4. add mozzarella and cheddar cheese,
5. add mushrooms.
6. top with provolone slices.
7. Top with remaining tube of rolls.
8. Bake at 350 35- 40 minute.