Ang11002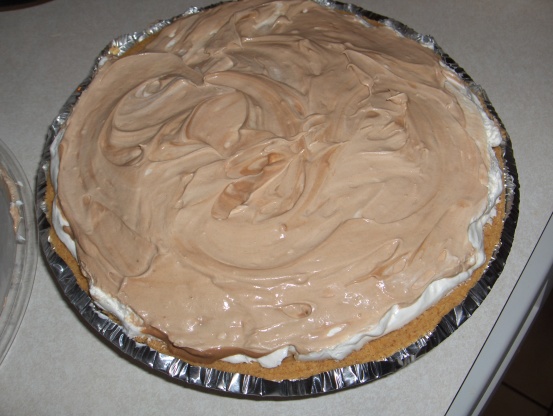 This simple to do cheesecake uses General Foods International Coffee mix, Swiss Mocha flavor. I was given some in the spring and it's too hot right now for coffee but I love the flavor. I found this recipe on recipelink.com.

MMM, this is very easy to make and tastes really good too. I love the general foods coffees so I knew I would love this. Made for the Golden Gourmets dessert challenge.
Beat cream cheese until smooth. Gradually beat in sugar. Stir in sour cream. Measure 1/4 cup of cheese mixture into bowl and set the rest aside.
Stir Swiss Mocha coffee and milk into 1/4 cup cheese mixture. Drizzle 1 Tablespoon of this mixture into the crust.
Fold whipped topping into reserved cream cheese and spoon into crust.
Drizzle remaining mocha flavored cheese mixture over top of pie. Draw a knife through to form a pattern on top if desired.
Refrigerate until set (about 2 hours).