alligirl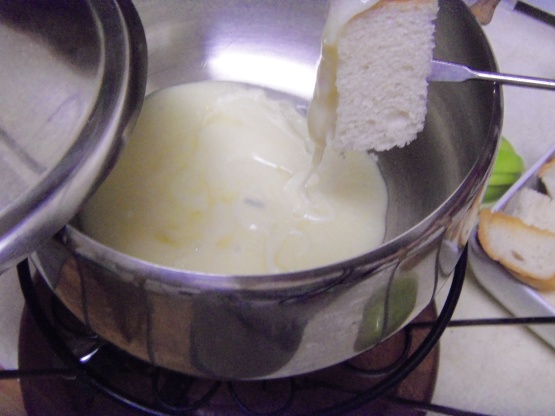 Sounds like a nice fondue. From Cooking.com and posted for ZWT7.

Just loved it! Enjoyed all the nuances of flavor, especially! We drag out the fondue pot once in a blue moon, but for this, I'm glad we did! Served with crusty french bread chunks (toasted) and an apple and pear, this was demolished by DH and I! I did reduce the recipe! LOL Thanks so much for sharing a fondue winner, lazyme!
Toss cheese with cornstarch in large bowl.
Bring wine, lemon juice and garlic to simmer in heavy large saucepan over high heat.
Reduce heat to medium.
Whisk 1 handful of cheese into wine until almost melted.
Repeat with remaining cheese in about 5 more batches.
Continue whisking until completely melted and fondue begins to bubble, about 1 minute.
Whisk in Kirsch and nutmeg.
Transfer to fondue pot and keep warm over fondue burner.
Accompany with a platter of assorted dippers, fondue forks and plates.
DIPPERS: Cubed crusty bread, boiled new potatoes, rounds of smoked sausage, cubed cooked chicken, blanched asparagus, green beans, broccoli, cauliflower florets and carrot sticks.