Swiss "french" Salad Dressing
Zurie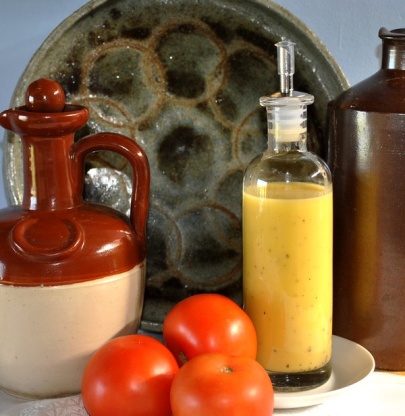 This recipe is from A taste of switzerland by Sue Style. It has been posted for the ZWT-7 tour of Switzerland.

Top Review by Zurie
Made for ZWT 7. This made an excellent dressing! The only reason for 4 and not 5 stars is the slight risk of a raw egg, and the rather stingy use of cream. I adjusted the sour-sweet taste, maybe using more sugar than the recipe says. I DID use egg, but the yolk only (did not feel like adding egg white). In South Africa we do not have salmonella problems that I know of, but I know people are wary of raw eggs. I used a little more cream too. May I suggest that a hand whisk works very well, and saves washing a blender? Also, I added the olive oil last (less than in the recipe), and in a thin stream while whisking -- and it turned into a lovely, fairly thick "mayonnaise"! So I did add a little water, to get the "coating consistency" mentioned in the directions. A NOTE: don't skip this dressing because of the raw egg: use a tablespoon mayonnaise instead. I think it will work very well indeed. Thanks, Baby Kato, for a really delicious dressing!
Blend together all the ingredients except the water in a blender or food processor until smooth.
Add enough water to give a lightly coating consistency.
Put in a screwtop jar and place in the refrigerator until needed.
Use within 3-4 days.