Prep 10 mins
Cook 10 mins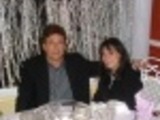 This is great if you like the taste of fondue, but don't have a fondue pot! Very tasty appetizer. If you want to give this some more zing, just add about 1/8 t. of your favorite dried spice (dill, basil, oregano, cayenne, garlic, etc.) to the cheese mixture.
Directions
Preheat the oven to broil.
In medium bowl, combine mayonnaise, wine, scallion and mustard and mix well. Stir in the Swiss cheese.
Place the 2 halves of bread, cut side up, under the broiler and toast lightly. Remove from oven and spread the cheese mixture evenly over each half. Return to the oven for 3-5 minutes or until the cheese is brown and bubbly. Slice bread and serve.
Most Helpful
This was delicious and truly had a fondue taste! I added a bit of garlic powder and pepper as well. Next time I might reduce the mayo a bit as I'm not the biggest fan. Thanks!

I had a large sourdough boule, so I decided to cut it in a crosshatch pattern, then stuff the cheese between the cubes and pour the sauce over the whole thing, letting it soak down into the crevices. I really enjoyed the flavor of the white wine and thought it was a nice substitute for fondue. Everyone at the dinner party I took it to agreed!

I'm eating this as I'm writing the review, and I just love it! I added a bit more cheese, because I'm a cheese lover, but I have to say that this is especially good! I don't know about Italian bread, but it works wonderfully on a French baguette!