diner524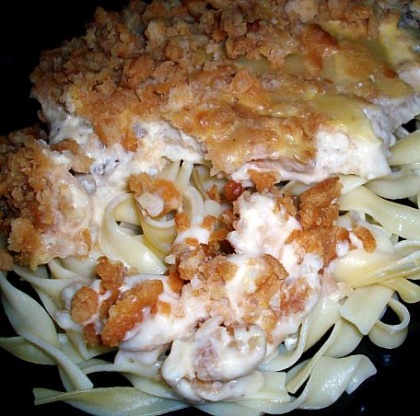 Smothered in a thick sauce and topped with buttery cracker crumbs, this entree is a hit.

This chicken dish IS DELISH! The only thing I did different was used finely diced onion, instead of the "dried onion", and cubed the chicken breasts into chunks. I definitely recommend using the swiss cheese. We LOVE swiss cheese and that pushed it over the top for us. Now if you want to take it one step further, you can add some diced ham, to make it a Cordon Bleu casserole. I might do that next time. It was simply yummy. Thank you looneytunesfan!
Place the chicken in a greased 13-in. x 9-in. x 2-in. baking dish. Sprinkle with minced onion, salt, garlic powder and pepper. Top each with a slice of cheese.
In a large bowl, combine the soup, sour cream and water; pour over chicken. Toss the cracker crumbs and butter; sprinkle over chicken. Bake, uncovered, at 350° for 30-40 minutes or until chicken juices run clear and crumbs are golden.