Pamela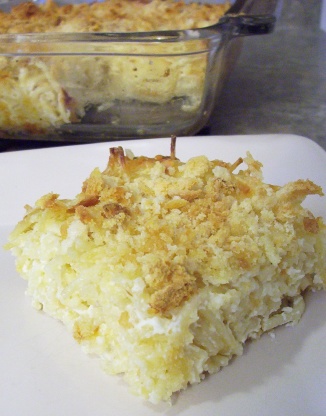 This is a tradition in our family. It is easy, and everyone devours it. It even freezes well.

I just had to get an early start on the Kugel recipes, since I had never cook any before. This was my first one and I am hooked. I loved it. It is so easy to make. I did make a couple of changes due to not having the exact ingredients, nothing major. The only real difference that I made was adding 1 cup of chopped broccoli. DH and I both love broccoli and cheese, so I figured, why not try it. This is definately a keeper. Thanks for the wonderful recipe.
Preheat oven to 350 degrees F.
Add onion juice, Worcestershire, margarine, salt, pepper and Swiss cheese to noodles and mix well.
Add sour cream and mix thoroughly.
Pour into ungreased 9x9-inch baking dish and top with bread crumbs.
Drizzle melted margarine over the crumbs.
Bake for 1 hour.
Note: Use a 9x13-inch dish for a double recipe.