SWISS CHARred By GREEK Dolmades
Bergy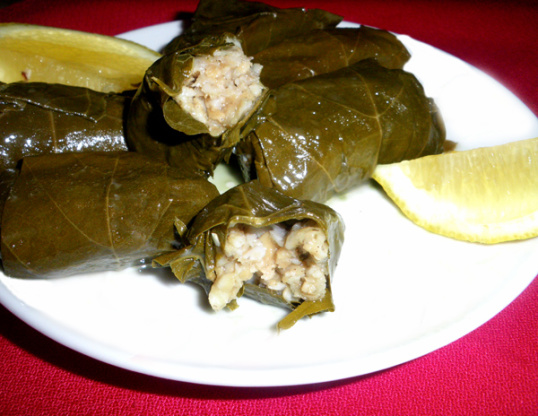 This is Swiss Chard season and I find kindly souls give you almost as much of this as they do zucchinis. Well l threw this together for a side dish for tonight's(company is here) dinner - You could also serve it as an appetizer. My apology to the Swiss and the Greek the recipe has never seen either country except as a figment of my imagination. Additional information: I was in my favorite deli and she had just opened a large jar of grape leaves and was going to portion them out so I asked for about a dozen, Made up this recipe as small appetizers, after cooking I served them cold, plain with just lemon juice over them. The grape leaf appies are in the recipe picture

This was very good now I know what to do with all my swiss chard. think i will freeze some in sauce for winter thanks
16

swiss chard leaves, stems removed and leaves steamed so they are plyable
1⁄4 cup raw rice, cooked
1⁄4 cup fine chopped mushroom
1⁄4 cup onion, finely chopped

1

tablespoon shallot, fine chopped

2

tablespoons sun-dried tomatoes packed in oil, finely chopped

3

cloves garlic, finely chopped (optional 1/4 tsp dried oregano (use fresh chopped, 1 tsp)
1⁄4 teaspoon dried cilantro (use fresh, chopped, 1 tsp)

2

tablespoons pine nuts, toasted
3⁄4 teaspoon hot mixed spice (piri-Piri, Mrs Dash Hot, Denzel's goumet hot - your favorite)
3⁄4 cup your favorite salsa (fresh is best)

4

tablespoons parmesan cheese, grated
Steam the Swiss Chard leaves,stems removed, dash in cold water and open them up on a plate ready for stuffing, you can layer them but it is important to open them fully Cook the rice and set aside.
In a skillet sprayed with veggie oil saute the onions, shallot, garlic& mushrooms until they are lightly browned Add the sundried tomatoes, stir well.
Add cooked rice.
Add pine nuts, stir.
Add 3/4 tsp hot spice mix.
Fill each leaf with at least a teaspoon of the rice mixture.
The amount depends on the size of the leaf.
,turn the side of the leaf toward the top and fold in the sides, roll to make a cigar Place rolled Chard in a lightly sprayed low sided baking dish.
Top with Salsa Place in 400F oven for about 12 minutes.
Sprinkle with parmesan and allow the cheese to turn golden.
Serve hot.