Swiss Chard With Tomatoes
Derf2440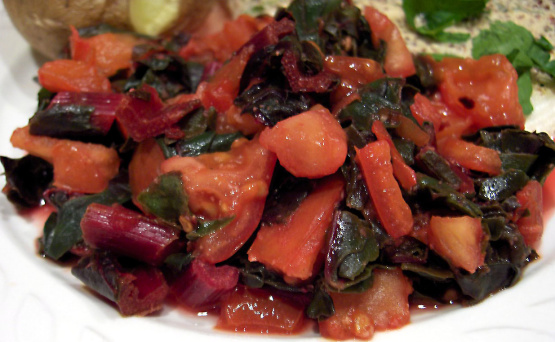 I love Swiss chard and really like this recipe combining it with tomatoes and garlic. Recipe from Chicago Trib FOOD section years ago.

Top Review by K-Rhea
This was very good!
I work as a chef at a soup kitchen, so we get a lot of donated produce that I don't alway know what to do with. This recipe was easy and quick to throw together. I did not add the breadcrumbs, but I added a dash of balsamic vinegar, which worked really well with the dish.
Trim coarse leaves and thick center ribs from chard; cut tender stems and leaves into 1/2-inch slices.
Heat 1 tablespoon of the oil in a large skillet; add bread crumbs; cook, stirring often, until crisp and golden; remove from skillet and set aside.
Cool skillet slightly; add remaining oil and garlic; cook, stirring, 2 minutes; add chard and cook until wilted, 1-2 minutes; add tomatoes, salt, and red pepper flakes to taste.
Remove from heat and sprinkle bread crumbs over the top.