Swiss Chard With Tomato and Bacon
Derf2440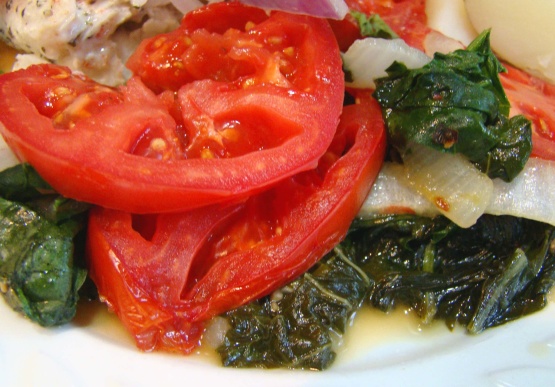 A good old New England tradition. Skillet swiss chard sautéed with bacon and tomato. A hearty side dish to serve with your favorite grilled meat. Bacon or salt pork can be used or omitted to make a vegetarian dish.

Very nice way to serve swiss chard. I left out the bacon, personal preference. Also cut back on the olive oil, lovely flavour and it looked very pretty. I forgot to add the balsamic vinegar at the end, but it was delicious anyway. I will make it again, thanks for posting.
Wash and rinse chard.
Rough chop chard to 2-3 inches.
In a large skillet, add olive oil and chopped bacon.
Cook bacon till fat has rendered and crisp.
Add chard, onion and garlic. Cover.
Cook till wilted.
Add salt and red pepper flakes.
Uncover and as water steams off, add chicken stock, adding more as needed so pan does not burn.
Lower heat to medium low. Continue to simmer until chard stalks and onion are tender.
Add slices of tomato. Cook for another 3-5 minutes.
Dress with balsamic vinegar to taste.
Enjoy!