Swiss Chard With Currants and Feta
BarbryT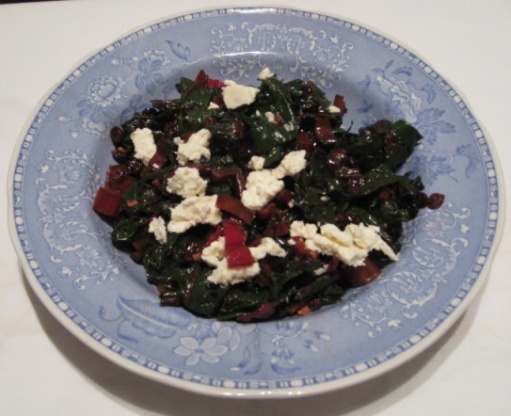 I thought after using this site for a while that I'd post one of my favorite recipes. It's adapted from Gourmet Magazine, and it's perfect for winter holidays (great colors!) I say it serves 2-4, but I often eat it all by myself!
Rinse chard well several times. Cut ribs and stems from leaves, then chop ribs and stems to 1/2 inch pieces. Chop leaves to 1-inch strips.
Heat oil in a large skillet over medium-low heat. Add garlic and cook for 2 minutes till lightly golden.
Add ribs and stems of chard, along with salt and pepper. Cook for 4 minutes, stirring occasionally.
Add currants and cook for 1 minute, until plump.
Add chard leaves and water, and increase heat to medium-high. Cook covered 5 minutes, or until leaves and stems are soft.
Crumble feta over chard and mix inches Serve warm.