BecR2400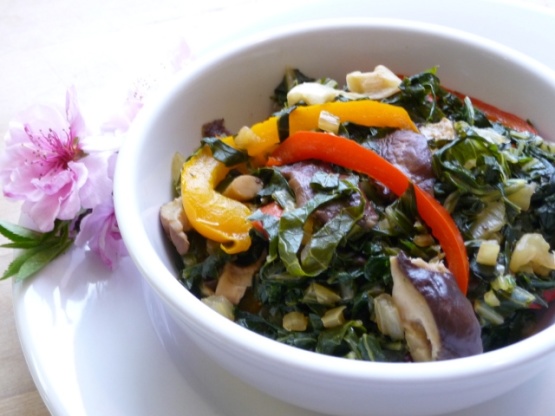 swiss chard stir fried surprisingly well. Feel free to change any of the other veg.

I was looking for something to do with Swiss Chard as it is supposed to be a super food and stumbled upon this recipe. I do not like Swiss Chard or at least I thought that I didn't...until I tried this recipe. So very good that I will continue making it in the future. thanks so much for sharing.
Mix all the sauce ingredients until smooth.
Cook the rice noodles according to the packet. drain and rinse under cold water, then set aside.
Separate the leaves and stalks of the chard and shred the leaves. (You may also finely chop the stems and add them is you wish).
heat the oil in a wok and add the mushrooms and chard stalks (if using) and stir fry for 1 minute.
Add the garlic, peppers and chard leaves and fry for a further 2 minutes.
Add water chestnuts and sauce and stir fry for 2 minutes.
Add noodles, mix well and serve.