Swiss Chard in Sauce Gruyere
JustJanS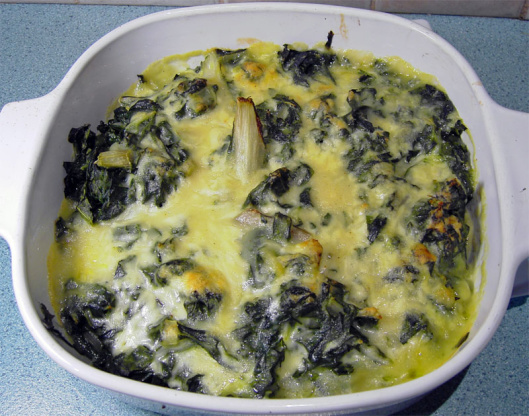 The suprise hits of this year's Thankgiving dinner were the vegetable side dishes. This was the green vegetable I served. I used red Swiss chard, giving the dish a holiday look. The dish can be finished in the oven while the turkey is resting.

Five stars just aren't enough for this one. I grow Swiss Chard and freeze it, my family loves to eat it in place of spinach, I am always looking for new and different ways of serving it. I found this recipe, made it and the family gave it rave reviews, This one is one that will be made again and again!
Seperate the stems and leaves of the chard.
Wash the stems and cut diagonally into 1-inch pieces.
Wash the leaves in 2 changes of water as they can be sandy.
Spin dry and coarsely chop the leaves.
Heat the oil in a wok or large pan.
Add the stem pieces and a pinch of salt and stir-fry until tender, about 5 minutes.
Add the leaves and cover.
Steam until leaves wilt, stirring occasionally.
If mixture is too wet, uncover and cook off excess liquid.
Transfer to an oven proof casserole and set aside.
Preheat oven to 350°F.
Prepare a Sauce Velouté.
Melt butter in a saucepan.
Add flour and cook, stirring for 3-4 minutes.
Add 1/4 cup stock, stirring to form a paste.
Continue adding stock, a little at a time, stirring to incorporate before adding more stock.
This will prevent lumping.
When all the stock has been added, season with a dash of Old Bay and a grinding of pepper.
Continue to cook, stirring, until the sauce is thick enough to coat the spoon.
Remove from heat, stir in nutmeg, whisk in cheese, pour over chard.
Finish in oven 20-25 minutes.