PanNan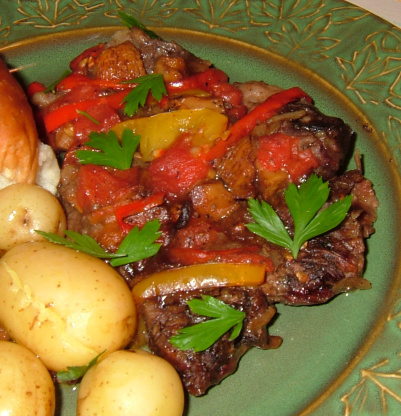 An old favorite from my mother. It's very tasty.

Yummy! I've made this twice, both times in the pressure cooker. I didn't have time to do the foil packets & the pressure cooker worked out perfectly. I followed the recipie exactly the first time (except I omitted the cornstarch and added 1C of water needed to cook in the pressure cooker). The second time I added more bell pepper and it was just as fantastic. My husband & I loved it so much that I'll be making it often! It only takes about 40 minutes in the pressure cooker.
Spread center of aluminum foil with butter.
Cut steak into serving portions.
Arrange on foil, slightly overlapping.
Sprinkle with onion soup mix, mushrooms, green pepper, tomatoes.
Season with salt and pepper to taste.
Mix reserved juice from the tomatoes, A-1 sauce and cornstarch.
Pour over meat and vegetables.
Bring foil up over and double-fold edges to seal tightly.
Bake 2 hours in 350 oven.
Carefully roll back foil and garnish with parsley.
Note- During the last 1 1/2 hours, bake potatoes along side the meat packet and serve with this dish.