Swiss & Beef Crescent Ring
Nif_H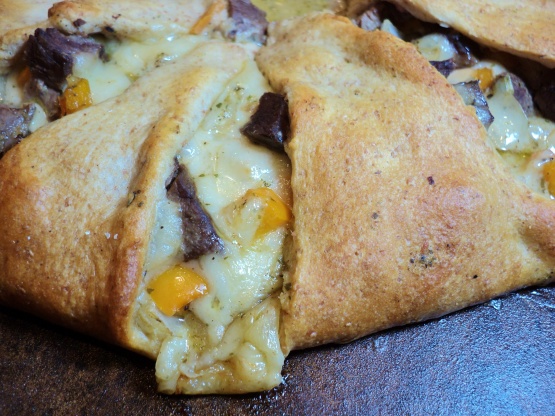 This was one of my dh's favourite dishes, when we were first married, it was a great way to use up leftover roast beef with Pillsbury crescents dough. It's tasty, quick and easy to make and best of all it looks like it took awhile to make. Only you need to know how easy this was.

Top Review by Nif_H
We all really liked this dish tonight. I made this pretty much as directed - I only used orange peppers instead of red and yellow peppers, skipped the mushrooms and used whole wheat rolls. After cooking, the dough on the bottom was quite raw but I think that's because I used a pizza stone and they take a while to heat up. I would use a cookie sheet next time. This would be great with pretty much any filling! Made for Went To The Market tag game. Thanks Baby Kato! :)
44.37

ml sweet white onions, finely chopped

4.92

ml lemon juice

354.88

ml swiss cheese, shredded

118.29

ml sweet red pepper, finely chopped

59.14

ml yellow sweet pepper, finely chopped

118.29

ml wild mushroom, finely chopped

354.88

ml beef, leftovers, diced

226.79

g package Pillsbury Refrigerated Crescent Dinner Rolls

29.58

ml dry mustard

29.58

ml fresh parsley, finely chopped

4.92

ml salt

2.46

ml black pepper, fresh ground

14.79

ml margarine, softened
Preheat oven to 350°F.
In a large bowl mix the onion, mustard, parsley, salt, pepper, margarine and lemon juice together and blend well.
Add the cheese, colored peppers, mushrooms and the diced beef, mix lightly.
Separate the dough into 8 triangles and place on a greased cookie sheet.
Arrange the triangles in a circle with the bases over lapping.
The center opening should be about 3 inches in diameter.
Points should be towards the outside.
Spoon the filling in a ring over bases of triangle.
Fold the points of the triangle over the filling and tuck under the base at the center of the circle.
When finished it should look like a round ring.
Bake in a preheated oven for 30 minutes.
Remove from oven and allow to cool 5 - 10 minutes before serving.
Perfect served with a fresh salad.