Swiss Apple and Bread Dessert
Nasseh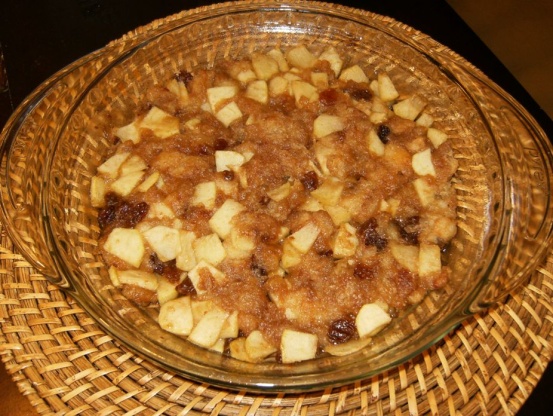 Easier than bread pudding, and a good way to use up stale bread. Adapted from Breads of the World. Do not freeze this recipe. NOTE: I hope my description didn't mislead anyone into thinking this is supposed to have the same texture as bread pudding. It isn't.

Top Review by Nasseh
I was a little confused while cooking this dish. It says to cover & simmer for 10 mins but there is no liquid used. The bread soaks up all the butter before the apples are even added to the pan. Maybe if the apples were cooked first then the bread was added it may work better. I ended up about half way through the cooking process by adding a little cream & water then placing everything in a glass baking dish & finishing off in the oven. It did taste delicious but I would work on the instructions some more. Made for ZWT 7
4

tablespoons butter

6

slices day-old white bread, crusts removed, cut in small pieces

3

green apples, peeled, cored, and thinly sliced
1⁄2 cup sugar
1⁄2 teaspoon cinnamon
1⁄2 cup raisins
whipped cream, for serving (or vanilla sauce)
Melt butter in a large skillet.
Add bread pieces and brown well.
Add apple slices.
Cover and simmer until apples are soft, 10-15 minutes.
Stir in sugar, cinnamon and raisins.
Serve warm, topped with whipped cream or vanilla sauce.