Swirled Caramel Cranberry Meringue Squares
DuChick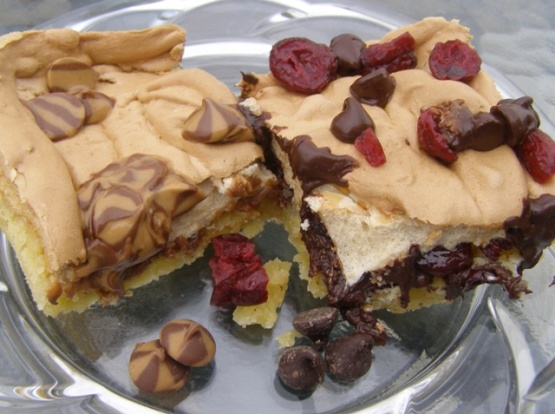 This came in my e-mail today from Very Best Baking. I haven't tried it yet, but it looks delicious and Very Best Baking usually has good recipes. It actually calls for Nestle Toll House Milk Chocolate and Caramel Swirl Morsels, but the computer would not let me put that. I'm sure that it would also be good with regular milk chocolate chips. I will update as soon as I make it.

Yummy! These bars are light, delicate and oozing with flavor. I had to experiment a bit with this recipe since half of the family doesn't care for cranberries. So, on one side I put just peanut butter/chocolate swirled chips and the other was made as suggested in the recipe. 3 of the 4 taste testers here preferred the cranberry side! Made and reviewed for PAC Spring '08.
Heat oven to 350°F.
Grease a 13x9 inch baking pan.
Combine flour and powdered sugar in large mixing bowl.
Cut in butter with pastry blender or 2 knives until mixture resembles coarse crumbs.
Press mixture onto bottom of prepared baking pan. Bake for 8 to 10 minutes or until mixture appears dry.
Sprinkle 1 cup morsels and 3/4 cup cranberries over hot cookie base.
Beat egg whites in large mixer bowl until soft peaks form.
Gradually add brown sugar and beat until stiff peaks form.
Spoon meringue over morsels and cranberries. Carefully spread to edges.
Bake for 14 to 18 minutes or until meringue topping is puffed and golden brown.
While still hot out of oven, sprinkle with remaining morsels and cranberries. Cool completely in pan on wire rack.
Cut into bars with sharp knife. Dip knife in warm water if it becomes sticky.