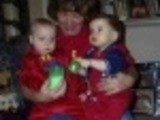 Quick, easy, healthy and tasty. Uses only 5 ingredients. Good served with asparagus and rice (esp. brown).
Directions
Melt the butter then stir in the brown sugar until dissolved; add the mustard.
On a heavy sheet of aluminum foil, lay the fish skin side down and glaze with the butter mixture.
Place the foil on the grill (or in the oven) and cook until done, about 5 to 7 minutes.
Glaze a second time shortly before finished cooking and sprinkle with the green onions.
Most Helpful
An easy but delicious recipe that even my teenage son who isn't much of a fish fan ate. I also thought it was a bit on the sweet side but I liked it. Next time I won't pack the brown sugar & will make less sauce as there was leftover. Make sure you use a large enough sheet of aluminum foil as the glaze will run off the fish while grilling. Thanks for a great way to get kids to eat fish!

I made mine under the broiler too, and used frozen salmon fillets. It was a good glaze, but probably would have been better on fresh fish. Also, didn't know if the brown sugar was supposed to be packed or not (I did)and I recommend not. lol All in all, a good glaze though. Thanks.
You are getting an awesome review, from someone who thought they hated ALL kinds of fish. Well I thought I'd try this salmon, and all I can say is WOW!!!!!!!!!!!!!!!! I am now a born again fish lover! Thanks so much for the great recipe, and it's so easy to prepare! Great on a weeknight when ya want to cook quick and get the kids to bed quicker! Thanks again!