Sweet Yeast Rolls (Vegan)
C L.2314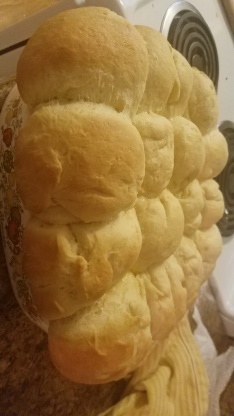 This is my favorite bread recipe. The rolls have a soft crust and are slightly sweet and yeasty. They are especially good straight from the oven but also keep well for a few days. I like to brush them with agave nectar instead of the margarine/oil to make them a bit sweeter. If you eat honey, that could work too. This recipe is adapted slightly from the Soft Sandwich Bread recipe at http://www.vegan-food.net/. Prep time includes preparation and rising times.

These rolls were super delicious!! I cut the amount of sugar in half because I am trying to watch how much I eat and they were still sweet enough, especially if you lightly glaze the hot rolls with maple syrup, then they are like warm puffs of heaven. I also used half wheat flour and half bread flour and my boyfriend, a notorious wheat flour hater, couldn't stop telling me how good they were. I did use unsweetened almond milk because that is my non-dairy drink of choice, but doubt they would taste much different with some other milk alternative. Thanks for the great recipe!! I will definitely make these again.
2

cups rice milk or 2 cups soymilk
1⁄4 cup margarine or 1⁄4 cup oil, plus 1 T extra for brushing
1⁄2 cup sugar, plus 1/4 t extra
1 1⁄2 teaspoons salt
1⁄4 cup warm water

2

tablespoons yeast
5 1⁄2 cups flour

1

tablespoon agave nectar (optional)
Heat rice/soy milk to scalding. Pour into a bowl with the margarine/oil, 1/2 cup of sugar and salt.
In another bowl combine the water, yeast and 1/4 t sugar and allow to sit for 5 minutes.
After the soy milk mixture has cooled, add the yeast mixture. Then add 1/2 cup flour and beat about 200 times. Allow to rest for 5-10 minutes.
Add 4 cups flour and beat well, then begin to mix with your hands. Add about 1 more cup flour or enough to produce a consistency of dough that can be turned out onto a floured board. Knead for 5 minutes.
Put dough into a well-oiled bowl and let rise for 1 hour. Punch down and form about 12 rolls. Place them on an oiled cookie sheet and allow to rise for 1/2 hour.
Bake at 375F for about 20 minutes or until the bottoms are brown and the tops are beginning to turn golden brown. Brush with margarine/oil/agave nectar.