Sweet Yeast Rolls (Vegan)
C L.2314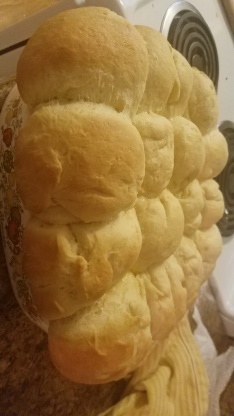 This is my favorite bread recipe. The rolls have a soft crust and are slightly sweet and yeasty. They are especially good straight from the oven but also keep well for a few days. I like to brush them with agave nectar instead of the margarine/oil to make them a bit sweeter. If you eat honey, that could work too. This recipe is adapted slightly from the Soft Sandwich Bread recipe at http://www.vegan-food.net/. Prep time includes preparation and rising times.
There's something so therapeutic about making these. The patience in watching it rise, the release of creating something with your bare hands. Or possibly just watching friends devour these with the ease of a breathurricane of air. Maybe all of the above. But I love making these. They come out so soft in the middle, crispy and sweet on the outside. I don't think I need any other recipe. This one is so simple- tho time consuming, it just gives more value to the bread. I always get requests to make more and there's never a roll left over the next day. This recipe yielded 12 very large rolls for me.
2

cups rice milk or 2 cups soymilk
1⁄4 cup margarine or 1⁄4 cup oil, plus 1 T extra for brushing
1⁄2 cup sugar, plus 1/4 t extra
1 1⁄2 teaspoons salt
1⁄4 cup warm water

2

tablespoons yeast
5 1⁄2 cups flour

1

tablespoon agave nectar (optional)
Heat rice/soy milk to scalding. Pour into a bowl with the margarine/oil, 1/2 cup of sugar and salt.
In another bowl combine the water, yeast and 1/4 t sugar and allow to sit for 5 minutes.
After the soy milk mixture has cooled, add the yeast mixture. Then add 1/2 cup flour and beat about 200 times. Allow to rest for 5-10 minutes.
Add 4 cups flour and beat well, then begin to mix with your hands. Add about 1 more cup flour or enough to produce a consistency of dough that can be turned out onto a floured board. Knead for 5 minutes.
Put dough into a well-oiled bowl and let rise for 1 hour. Punch down and form about 12 rolls. Place them on an oiled cookie sheet and allow to rise for 1/2 hour.
Bake at 375F for about 20 minutes or until the bottoms are brown and the tops are beginning to turn golden brown. Brush with margarine/oil/agave nectar.