Boomette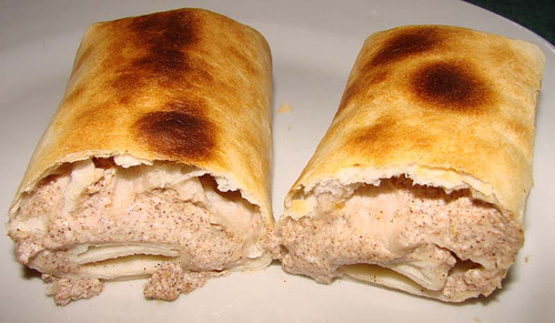 Another of my favorites from the little book "Low Fat Mexican Recipes." This is a really nice treat the kids'll love.

not bad, but totally didn't work out for me. i rolled the filling in the shell (but added more, because 2 Tbsp. wouldn't fill the tortilla), when i broiled them, all the filling spilled out all over the cookie sheet. i like the idea, but i'd have to play with it a lot to make it work out right
Set oven to broil.
In a mixing bowl, blend ricotta cheese, sugar, cinnamon and vanilla.
Spread about 2 tablespoons of ricotta mixture down center of each tortilla.
Fold ends of each tortilla in and roll up like a burrito.
Place on a cookie sheet and broil for approximately 1 minute.
Serve warm.