Bayhill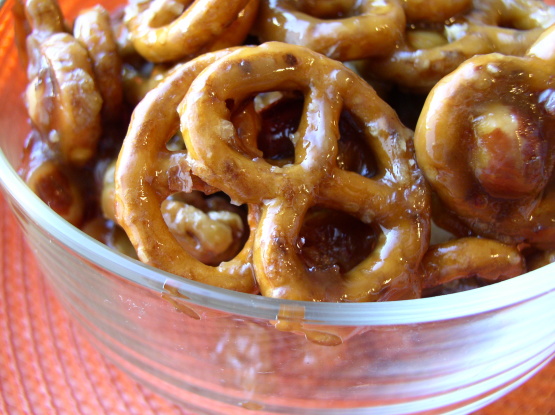 A yummy sweet and salty snack!

These turned out wonderful! They have just a very lightly sweet, buttery toffee taste. We don't like nuts so we just used pretzels. I ended up using a full 15oz bag plus about a cup more from a second bag, and I could have even used another handful or so as there was quite a bit of toffee still in the bottom of the pan. The finished product is a little sticky yet, so next time I will cook it to more like 290F or so like regular toffee. I recommend taking a heap at a time out of the pan and spreading it out on parchment paper so the rest stay warm and pliable. As soon as it is cool enough to touch start pulling them apart and adding more as you go. You will need to go back through them several times to re-separate as they cool so they don't end up clumping together. Just work quickly so that they all get separated before they cool too much. If you can't work fast enough, keep the pan in the oven on very low so they will stay pliable until you can get to them. They won't burn or overcook if they're not in there more than 10-15 minutes or if you just turn the heat off. We may try drizzling them with a little chocolate next time for something a little special. This one's a definite keeper. Thanks for sharing your recipe!
In a 9x13-inch glass dish, combine the pretzels and the nuts.
In a large saucepan combine the butter, sugar, corn syrup and salt. Stir over medium heat until sugar dissolves.
Bring to a boil and cook until thickened (firm ball stage--260°F). Remove from heat and pour over your pretzel mixture and mix until everything is coated.
Bake in a preheated 250° oven for about 20 minutes (stir about halfway through). Remove from oven and spread out to cool on a sheet of wax paper.