Sweet & Tangy Grilled Pork Chops
teresas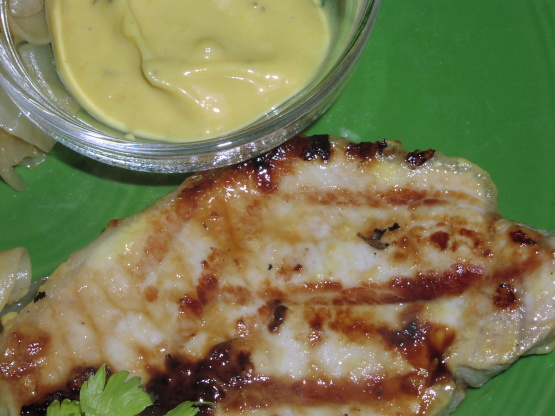 Very tasty! Also very easy to make. I reduced the amount to serve two, but there was still way more marinade than needed. I cooked the chops on a griddle pan rather than grill them and that worked really well. Thanks for posting.
2⁄3 cup mayonnaise
1⁄3 cup mustard (French's classic yellow or honey mustard)
1⁄4 cup sugar, dark brown

1

teaspoon garlic, minced
3⁄4 teaspoon thyme leaves, dried

6

pork chops (1/2 inch thick seasoned to taste with salt and pepper)
Mix mayonnaise, mustard,sugar,garlic and thyme. Pour 2/3 c mixture over pork.
Marinate chops in refrigerator 30 minutes or up to 3 hours.
Grill pork on greased rack over medium heat for 15 to 20 minutes or until cooked through. Serve remaining mustard mixture with chops.