Sweet Spinach Smoothie (My Way)
jenne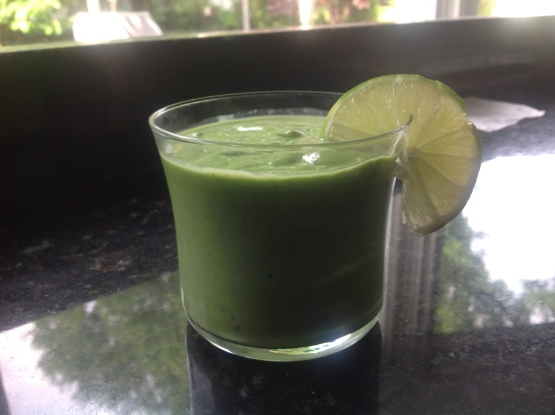 So we just went on a diet to get off these last 5 pounds and I made this for breakfast this morning and wow was it yummy and healthy! Definitely use a light yogurt because it is more runny and easier to blend; if you use a full fat or Greek yogurt, you will need to add more water to get the blender to work (unless you are lucky enough to have a powerful professional blender). My calculation of calories for this smoothie is only 260 (80 for yogurt, 30 for grapes, 20 for spinach, 5 for lime juice, and 125 for avocado).
6

ounces light vanilla yogurt (I used the Walmart brand which has 80 calories)

1

cup spinach leaves, packed
1⁄2 avocado

10

red grapes (I used some I had in the freezer)
1⁄2 lime, juice of
1⁄4 cup water
Add all ingredients to the blender and process til smooth. Add an extra 1/4 cup of water if necessary to get the blender going. Mine took about 45 seconds total and a full 1/2 cup of water.