Sweet & Spicy Glazed Pecans
kglink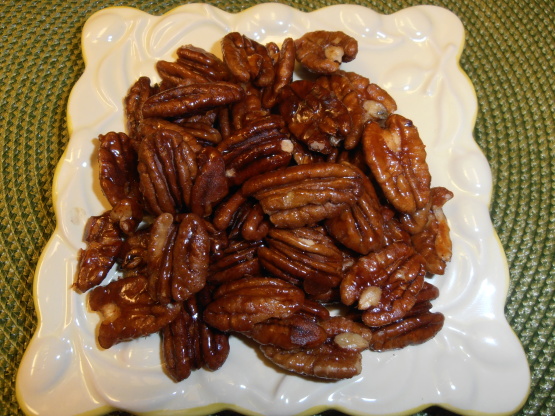 I love to add these pecans to salads of all kinds. Of course, they are pretty great just as they are! Feel free to adjust the seasoning to suit your individual taste. Also, walnuts and mixed nuts are really good fixed this way.

I would give the recipe 4 1/2 stars, were that possible. I couldn't get the nuts to go on the cooky sheet in a single layer because the glazing was pretty thick after coating the nuts, so I stirred them a bit after they'd heated up in the oven. Still, in the end, they were clumped together and had to be separated after cooling. I would increase the spice level, adding extra cayenne or some ground black pepper. It did take the full 13 min. in the oven to achieve the glaze. I will give the recipe another try.
Preheat oven to 350°F.
Butter a large, heavy cookie sheet.
In a small, heavy saucepan, combine first 4 ingredients.
Over medium heat, stir until sugar dissolves and mixture comes to a boil.
Boil 2 minutes.
Add pecans and stir until they are coated with the mixture, about 1 minute.
Transfer pecans to the cookie sheet, spreading evenly into a single layer.
Bake until pecans are just starting to brown, about 13 minutes.
Transfer to another cookie sheet that is lined with wax paper.
Separate the pecans and cool completely.
Store in an airtight container.