Sweet Southern Sugared Strawberries (Strawberry Topping)
gailanng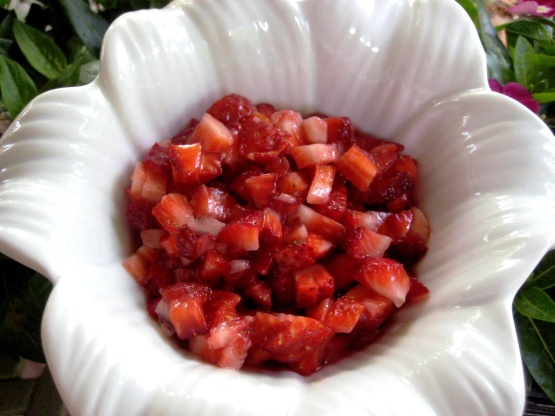 This is a family favorite handed down for generations. It is very basic and can be used in Strawberry shortcake, ice cream topping, cheesecake topping, pancake or waffle topping, etc. Be creative with it!

Jenn, this is usually the first thing I do with my strawberries when I bring them home from the store and have been doing it for years! I use them on everything from Belgian Waffles, pancakes, pound cake, ice cream, cheesecake, pudding, egg custard or even served alone in a fluted margarita glass with a dollop of real whipped cream. Simply too many serving suggestions to list!! Delicious!
You will need a tupperware type container with a lid.
First, slice as many strawberries as you would like and place them in the container.
Then add as much sugar as you wish.
The more sugar makes more syrup.
I usually add enough to fully coat the strawberries.
Now put the lid on the container and tumble the strawberries for a minute so they can get saturated in the sugar.
Now refrigerate the container for a couple of hours, and you will have the tastiest, sweetest strawberries in their own syrup.
(I usually leave them in the refrigerator over night).