teresas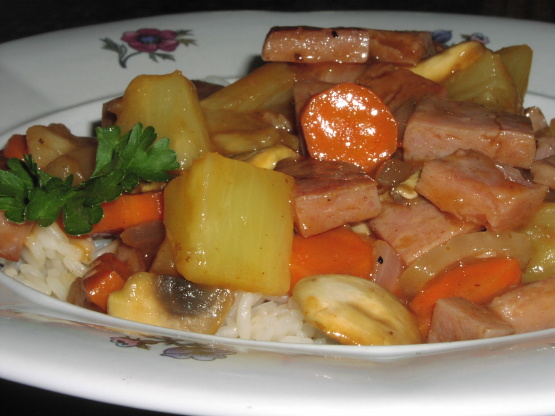 What can I do with a can of Spam and a pineapple? This is what I came up with...

I had some leftover spam...so made this yummy dish for my hubby...I sub carrots for the peppers only because I didn't have peppers...and instead of using water I used the juice from the canned pineapple...he really enjoyed it...made for your football win...
Spray wok or large pan with Pam-type spray.
Add cut up Spam and saute until browned, remove and set aside.
Cut up pineapple and set aside.
Spray again and saute veggies until mushrooms have released their liquid.
Mix rest of ingredients into the cold water, add to pan.
Stir until mixture has thickened, add pineapple and Spam, heat until warmed through.
Serve over rice.