Prep 5 mins
Cook 2 hrs 30 mins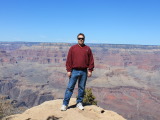 These ribs are easy, and fall off the bone tender. A great way to enjoy ribs during the winter.
Directions
Preheat oven to 325 deg.
Cut ribs into pieces.
Bake ribs for 45 minutes.
Mix remaining ingredients in a bowl.
Drain all fat from ribs.
Pour sauce over ribs, cover and bake for an hour.
Uncover and bake an additional 45 minutes, baste 3 or 4 times.