Leslie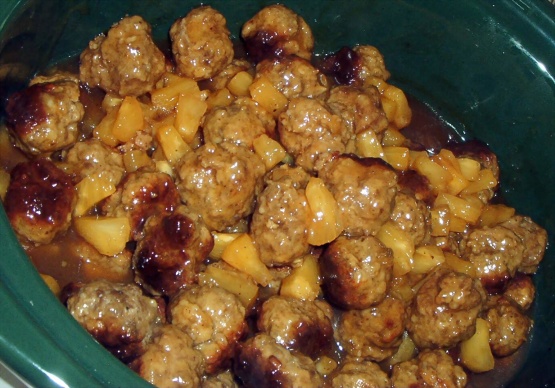 This dish is great as an appetizer, or add some red and green peppers and serve over rice and you have a meal. This recipe has been used in my family since I was a kid--not too sure where it came from aside from my mom. It also works very well in a crock pot if you have several hours to let the sauce sit and thicken.

Top Review by EBacon
I just made this tonight for me and my girlfriend, and it was nothing short of absolutely awesome. Made the meatballs from scratch and followed the recipe to the letter, except I added the two optional ingredients, green peppers and rosemary, and I also added crushed red pepper. The meatballs had plenty of zip & zing and the sauce was to die for--we will definitely be having this again, thanks so much for sharing!
Mix together all meatball ingredients until thoroughly combined.
Form into balls. For appetizer make smaller balls, for meal make larger balls.
Place on baking sheet and bake at approx 350°F until brown (15-20 minutes depending on size of meatballs).
To make sauce, mix brown sugar and cornstarch in skillet.
Stir in pineapple (with syrup), vinegar and soya sauce. Heat to boiling, stirring constantly, then reduce heat.
Add meatballs, cover and simmer for approximately 10 minutes.
Add peppers and simmer approximately 5 minutes more.