Sweet & Sour Chicken Balls With Brown Rice
Bergy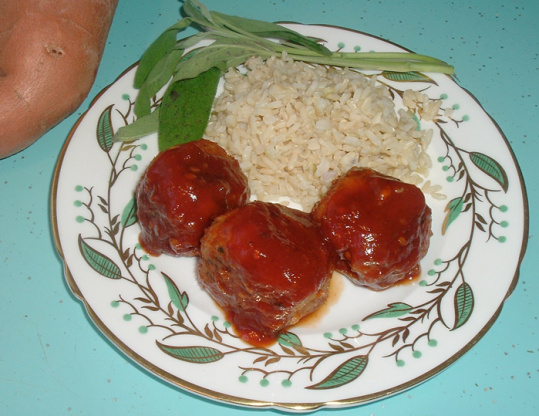 The sauce is lovely poured over the rice. The balls seem quite soft when you are making them but they do firm up during the cooking. If you wish firmer chicken balls add more bread crumbs, but only a few. Make sure that you coat them well with crumbs so they turn golden when you are browning them. A green salad goes well with this dish.

Cut back the bread crumbs to 1/2 cup total and ended up baking rather than frying the balls. Sauce was delicious, and I loved the addition of the carrot!
Chicken Balls

1

lb ground chicken

1

egg, slightly beaten
3⁄4 cup fine breadcrumbs
1⁄4 cup yam, cooked and mashed
1 1⁄2 teaspoons fresh sage, finely chopped

1

tablespoon dried parsley flakes
1⁄2 teaspoon mustard powder

3

tablespoons onions, finely chopped
salt & pepper
1⁄4 cup fine breadcrumbs (to coat the balls)
3⁄4 teaspoon mixed Italian herbs (or use Italian Herb Bread crumbs)

Sauce

1

(14 ounce) can tomato sauce

6

tablespoons honey

4

tablespoons balsamic vinegar
1⁄4 cup grated carrot

1

tablespoon Worcestershire sauce
1⁄4 cup green pepper, finely chopped

1

teaspoon chili flakes (optional)

1

jalapeno pepper, finely chopped (optional)

Rice

3

cups cooked brown rice (apprx 1 1/3 cups raw rice)
Mix all the Chicken Ball ingredients together except the 1/4 cup crumbs and Italian herbs.
Use your hands to evenly blend all the ingredients together.
Form 2" Balls, roll them in your hands to get them even and well formed (you should have 12 balls).
Mix the 1/4 cup of crumbs& Italian herb.
Coat each ball with the crumbs, place on a plate and put in the fridge while making the sauce and cooking the rice.
Put your Brown rice on to cook it make take 30 minutes depending of your cooking method.
Put all your sauce ingredients in a saucepan, stir well, bring to a boil and simmer apprx 20 minutes or until it has thickened slightly.
Brown the chicken balls in a lightly oiled skillet, roll them around so they get golden all over.
Pour the sauce over them cover and simmer for 15 minutes over medium-low heat, turn them once or twice.
Serve with hot cooked Brown Rice.
I like the sauce over the rice.