Sweet, Smokin and Sticky!
Rita1652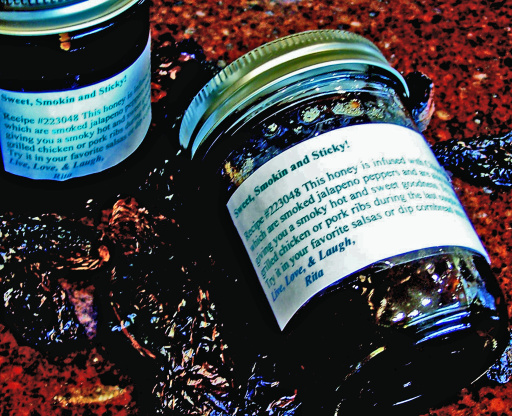 Yes! 2 ingredients can make it easy and sinfully yummy!!! This honey is infused with Chipotle chilie peppers, which are smoked jalapeno peppers and are also known as chili ahumado, giving you a smoky hot and sweet goodness. Try spreading this on a grilled chicken or pork ribs during the last couple minutes of cooking. Try it in your favorite salsas or dip cornbread into it.

I can't believe I forgot to review this Sweet, Smokin and Sticky! honey which I received in the honey swap from Rita's sister!! It is great as a glaze on chicken and pork!!!!!! I wanted to make some and couldn't find the recipe and realized I had not submitted a review!!!! Delicious, sweet, smoky and sticky just like the name!
Place honey and pepper in a double boiler with hot water in bottom.
Bring water to a boil, and bring honey to 185°F and keep at 185°F for 10 minutes. Remove from heat and let stand 10 minutes. Strain while still warm.
Place in sterilized jars and cap.
Add a dried chili on a string to wrap around the rim of the jar!