Sweet & Simple Sweet Potato Biscuits
These are sooooo good and will fill your house with the most delicious scent while baking. I found this recipe on a great online food blog, "Cucina Nicolina". These are best eaten warm (you can warm them in the toaster oven). Enjoy! These are easy to make vegan: swap margarine for the butter and put 1 tsp. vinegar into 1 cup of soy milk (and then use 1/3 cup of that).
Directions
Preheat oven to 450 degrees. Mix the dry ingredients and sift together. Cut in butter to make a coarse meal. Stir in sweet potatoes. Add milk and stir until sticky.
Turn out dough onto a floured surface and roll to one-half inch thick. Cut with a small cookie cutter or a round glass and put on a greased cookie sheet about 1 inch apart (or drop by teaspoonfuls onto the cookie sheet).
Bake 12-15 minutes until very lightly browned.
Most Helpful
Sooo good like you described. Love them with a little honey on them!

Excellent! I LOVED the flavor in these wonderful little treats. Fabulous with smoked turkey! blucoat, thank you for sharing this recipe. It's going into my "Best of 2009" cookbook.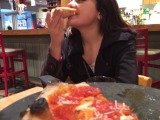 I saw these on that blog, too, and had to have them. I didn't roast the sweet potato quite long enough, so the texture was off, but they still taste good. Put a little faux butter & cinnnamon sugar on top. Delish. Made it vegan.