Sweet & Salty Baked Donuts
hwright4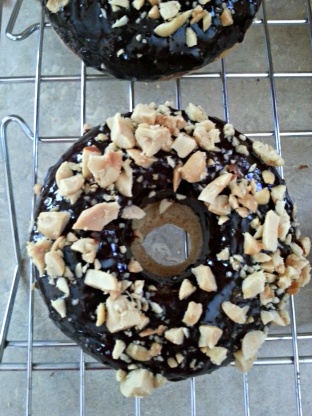 These baked donuts are delicious and slightly healthier than their fried counterpart. I like to mimic my favorite from the donut shop, chocolate glaze with chopped peanuts, but the donut by itself is a great blank canvas! If you do not have whole wheat pastry flour on hand, just use all all-purpose flour.
Preheat oven to 325 and lightly grease your donut pan.
Mix together dry ingredients. Add remaining ingredients and whisk to combine. Using a piping bag, pipe batter into prepared pan (you can also carefully use a spoon to fill pan).
Bake 8-11 minutes, or until donuts spring back when touched. Let cool for 5 minutes before removing to a wire rack. During this time, prepare your glaze by microwaving all four ingredients together until smooth.
Dip the tops of slightly cooled donuts into the glaze and top with chopped peanuts.