teresas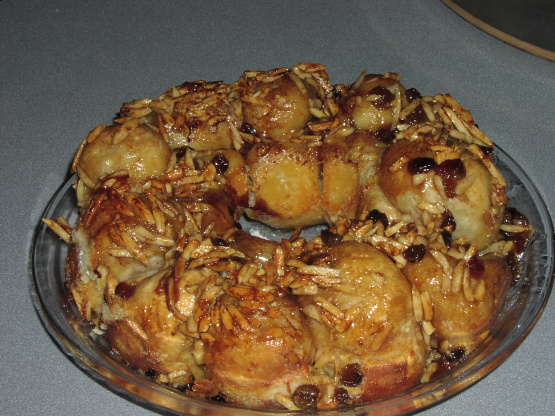 This is from one of my favorite cookbooks by "KCTS Cooks" a local TV station. This one is called "Favorite Recipes" and it is from a local viewer here in Gig Harbor, Washington. Marti says it is always a big hit and for variations she has used coconut pudding with rum and coconut extract. I haven't made it yet but there is no yeast needed and I'm yeast challenged. :) Cooking time does not include overnight rising.

Very easy and yummy! Used sliced almonds, dried cranberries, and triple sec. Makes a lovely fruity, nutty caramel sweet roll with no effort. Thanks for sharing the recipe!
Spray your favorite Bundt pan with nonstick spray, and sprinkle with 1/2 cup chopped almonds or nuts of your choice.
Place about 14 frozen Rhodes bread dough rolls on top.
In a bowl mix melted butter, Triple Sec, orange rind, cinnamon, brown sugar, salt, vanilla, another 1/2 cup chipped toasted almonds and golden raisins.
Pour over the frozen rolls.
Finally sprinkle butterscotch pudding over the top and let rise overnight.
In the morning preheat oven to 350 degrees and bake for about 40 minutes. Cover with foil the last few minutes if browning too quickly.
Invert to serve.