Ruth G.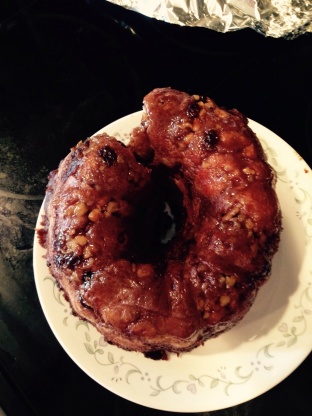 These sweet rolls take a little time to make, but once you serve them to your family and friends, you'll be famous for making the best sweet rolls in the world :). Prep and cooking time does not include time to allow to rise.
This is my go-to recipe for rolls. Everyone loves my rolls and I make them for all the family get togethers. I have taken them to potlucks and I had people asking my husband to bring them to work (we had worked in the same place for a long time) for three years after I left there. I make mine non-vegan and use real butter usually. I also use vanilla soy milk and it makes them amazing. They are wonderful with my homemade jam! I can't tell you have good and easy this recipe is. You should try it once at least!
Let milk come to a boil in a heavy saucepan. Add 1/4 cup butter, 1/4 cup sugar, and salt. Cool. Soften yeast in warm water. Stir into milk mixture. Pour into large mixing bowl. Add flour, a little at a time, to liquid mixture. Beat well. Turn out onto floured board. Allow to sit 15 minutes. Knead until smooth and satiny.
Place dough into a greased bowl. Turn over once. Cover with a cloth. Let rise in a warm place until doubled in size. Roll out dough on floured board to about 1/4-inch thickness. Cut into three 8-inch squares (they don't have to be perfect squares). Work with 1 square at a time. Brush each square with melted butter.
Mix 1 cup sugar with cinnamon (if necessary,you may have to make more sugar/cinnamon mixture.) Sprinkle most of this mixture generously over entire surface of each square. Starting at one side of each square, roll into a tube. Continue rolling back and forth, until 12 to 18 inches long. Repeat with other 2 squares. Cut each tube into wheels about 1/2-inch wide. Place wheels onto a baking sheet that has been brushed with melted butter and sprinkled well with cinnamon-sugar mixture. Place them so that they touch. Brush tops with melted butter and sprinkle with more cinnamon-sugar mixture. Let stand, covered, at room temperature for 1 hour to rise again.
Preheat oven to 350 degrees. Bake rolls for 18 to 20 minutes. (You can refrigerate rolls, covered, and then bring back to room temperature for 30 minutes before baking.).