Boo W.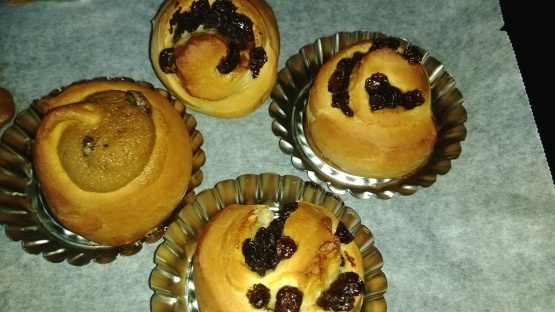 I have been making cinnamon rolls and dinner rolls with this recipe since I was about 13. This recipe came from the Betty Crocker Picture Cookbook in the 60's.

I halved this recipe to make a batch cinnamon rolls. I used butter instead of shortening because my shortening had expired. I pulled off a small amount of dough to make 6 dinner rolls and used the rest to make 12 cinnamon rolls. They came out excellent. My husband said they were the best he ever had homemade or store-bought. I used your filling from recipe #260046 and for the frosting I used 1/2 a batch of Recipe #36557. Thanks for posting!!
Mix water and yeast in large mixing bowl.
Stir until dissolved.
Add milk, sugar salt, eggs, shortening and 1/2 of the flour.
Mix until smooth and pour out onto floured surface. Knead while adding the additional flour. Knead until smooth and elastic( about 5 minutes).
Round up in greased bowl with greased side up. Cover with damp cloth.
Let rise in warm place until double (about 1&1/2 hours).
Punch down; let rise again until almost double.
Dough is ready to to make into cinnamon rolls or dinner rolls now.