Sweet Red Pepper and Gouda Soup
Parsley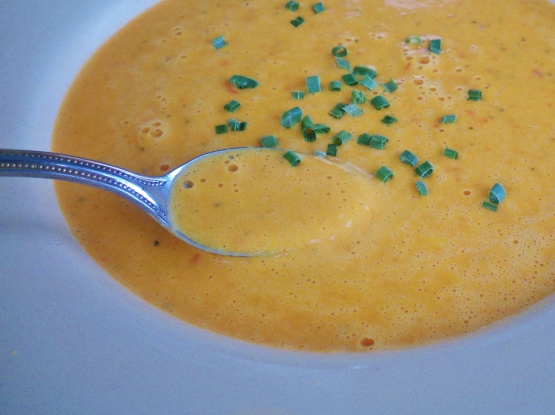 I was recently in Gettysburg where I had a bowl of sweet red pepper and gouda soup. It was really good. I couldn't find a similar recipe on this site, but I found one on a blog spot called "dinnerdoldrumsnomore". It came out just like the one I was served... So, here it is... Enjoy! --The Mad Slovak --
Melt the butter in a large saucepan over medium heat.
Place the red bell pepper, onion and garlic in the saucepan and saute for 15 to 20 minutes OR until tender.
Pour in the chicken broth, stirring well.
Reduce heat to low and simmer for 30 minutes.
Transfer to a blender and puree until smooth. Do this in batches as necessary depending on the size of your blender. Be careful not to overfill your blender.
Return the liquid to the saucepan over medium low heat.
Stir in the heavy cream, the ground black pepper and cheese, and allow to heat through about 5 to 10 minutes.