Sweet Potatoes With Honey
lazyme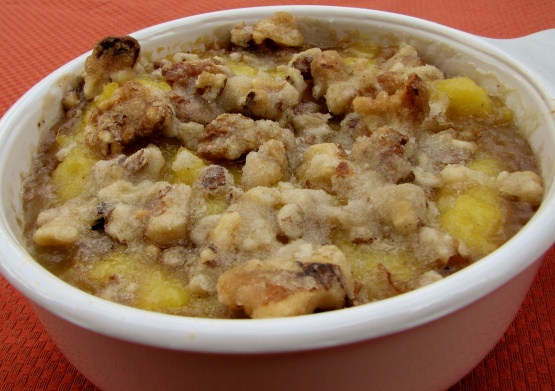 A friend of our family use to make this dish when sweet potatoes are in season. I think its a traditional Canadian recipe. Our friend has a sister that lives in Toronto and gave her the recipe.

This is very similar to my grandmother's sweet potato casserole. Hers uses brown sugar instead of granulated, and I think that would have been better in this recipe as well with the honey and the brandy. I might also halve the orange juice next time because I felt it was a bit over powering. Still very tasty though. Thanks Katia!
Boil the sweet potatoes in water until tender. Then drain and mash them.
Add the butter, orange juice, honey, brandy, salt and the nutmeg.
Place in a buttered casserole dish.
Preheat the oven at 180C or 350°F.
Combine the sugar, the butter and the walnuts. Sprinkle over the potato mixture.
Place into the oven and cook for 45 minutes.