Sweet Potatoes Roasted With Garlic and Rosemary
Prep 10 mins
Cook 40 mins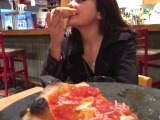 Crispy on the outside, soft and delicate on the inside with the nutty taste of roasted garlic and the freshness of rosemary is the perfect side dish to any meat or fish. Try this tonight!
Directions
Preheat the oven to 375 degrees.
Put the chopped garlic in 1 TBS of the olive oil with half of the rosemary on the side to use later.
Toss the potato pieces with olive oil, half of the rosemary, and salt and pepper.
Bake for 20 minutes, tossing occasionally in order to crisp the outsides.
Toss with the garlic and remaining rosemary and continue to bake until the potatoes are soft on the inside, about 15 minutes more.
Reviews
Most Helpful
Loved this! I love sweet potatoes made in a savory way, with no additional sweet ingredients, so this recipe was just what I was looking for. I only used one clove of garlic (due to a sensitivity) and dried rosemary, but it was still one of the most delicious roasted sweet potatoes I've had.

I love sweet potato and this was so good and very easy to make. The rosemary and garlic was perfect! Made for Fall PAC 09
I just love roasted sweet potatoes and this was very good! I enjoyed the rosemary and garlic flavors! Thanks Trinkets! Made for the Vegetarian Swap-April-2009.