Sweet Potatoes, Baked over (Germany)
ImPat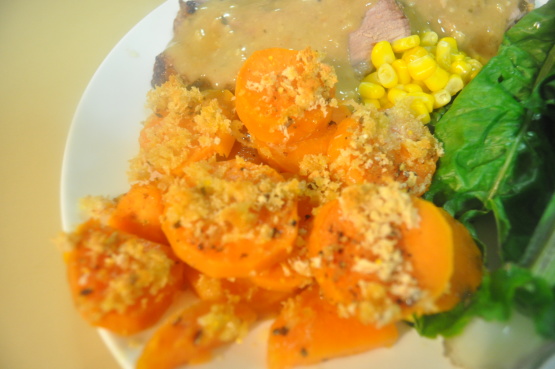 The original of this slightly tweaked recipe was found in the 1955 cookbook, German Cookery, & I'm posting it here to help fill out my cookbook of Deutsch recipes for the Zaar World Tour 6.

Top Review by ImPat
I scaled this back for 3 of us using 3 long skinny sweet potato which was more then enough for us (had a serve left over and the DM has claimed that for breakfast lightly fried up and served with an egg), I used less than a tablespoon of sugar (which was plenty for us - don't like sugary sweetness) and about 2 tablespoons of 3 of butter, I wizzed up 2 slices of wholemeal/wholegrain bread for the bread crumbs which gave more than specified but added a lovely crunch to the dish which I think made it the winner. Thank you Sydney Mike, made for Please Review My Recipe.
Wash & cut the sweet potatoes in 1/2-inch thick slices, then steam them for 8 minutes or until just fork tender.
Preheat the oven to 450 degrees F & butter an 8"x8" baking dish.
Layer the sweet potatoes in the baking dish, sprinkling each layer with a small amount of salt, pepper, brown sugar & butter (using just half of the butter for this purpose).
Cover the top layer with the bread crumbs & the rest of the butter & bake for 20 minutes or until well browned.