Yassi Y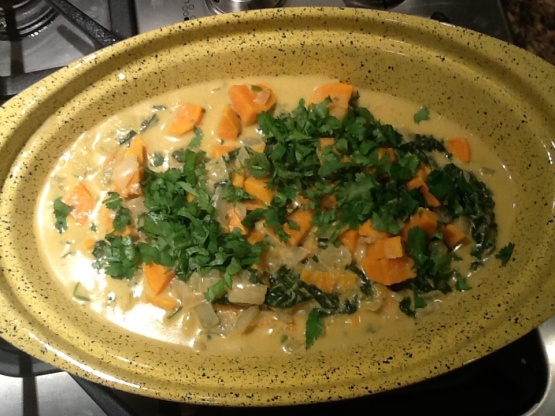 This is actually my roommate, Michelle's recipe. I request she make it at least once a week and I had to have the recipe for myself because I am soon moving out. All measurements are approximate as she just throws the ingredients together and I just wrote down what it appeared to be. the good news is it seems to work perfectly every time.

This was really excellent, especially considering how easy it was to make. I modified it some but tasted it first as made by the recipe and it was really good that way too. This was for a "dinner date" with my wife, so I added about 1/2lb of shrimp at the end. Could also do chicken or marinated tofu. I cut the spinach to 1 bag, because of the other adds, didn't want one ingredient to over power the others. If I was doing the veggie only version I would have went with two as the recipe states. I also increased the amount of curry paste to 1.5 tbsp red and 2 tbsp panang for a little more flavor and additional heat (we like really spicy thai food. With this addition, it was PERFECT. Put it at a 3.5-4 on a 5 heat scale at most thai places where 5 is for "natives"). I also wanted it a little sweeter so I added 2 tbsp of brown sugar and 2 tsp salt. With these additions it was easily as good as the best thai food I have had in a restaurant. Great job Michelle!
Sauté onion, garlic, and ginger in the olive oil on medium high heat in a large pot until the onion is transparent.
Add the sweet potato and pastes. Mix well. Allow for mixture to heat up.
Add coconut milk and chili. Stir. Allow for mixture to heat up.
Add all the spinach to the pot, but do not mix. Cover the pot.
After 5 minutes, the spinach should be wilted. Stir into mixture. At this time, add the fish sauce and stir.
Re-lid and let simmer for 5-10 minutes, or until the potatoes are cooked.
Serve over rice and add a sprig of cilantro on top.